I love beach, sand, sea, ocean, blue sky, marshmallow cloud.
so, I always find any perfect time to visit them. love the sound of the wave,
love the sun, love my tanned skin, and how i love snorkeling watched those
fish swim near corals. Perfect holiday! agree with me?
However, there's one thing that i concern while i'm sunbathing or swimming at the sea.
it's the after burn rash at my skin. well, I used sunblock at my body,
but somehow i don't like the greasy feeling when i apply sunblock at my face.
If you play a lot under the sun without using any sunscreen this is what you got
- spot pigmentation *this is horror
- you'll feel uncomfortable feeling from sunburn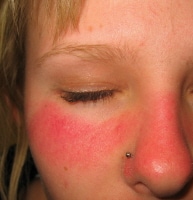 and the worst part, for not using any sunscreen for years,
especially if you doing a lot activities under the sun.
is THIS :
below you can see this old man face suffer
premature aging from sun damage to the left side of his face
25-year history of gradual,
asymptomatic thickening and wrinkling of the skin on the left side of his face,
he driven a delivery truck for 28 years. Ultraviolet A (UVA) rays transmit through window glass,
penetrating the epidermis and upper layers of dermis.
So, doesn't matter what your activities is
whatever you play in the beach, going to school, drive a car,
or even doing grocery shop. Please wear sunscreen.
Get in the habit using high SPF sunscreen when you leave the house,
or find any moisturizer/primer that contains some amount of sunblock.
So, how to choose a good sunscreen for face? Here's some tips from me :
- Choose a sunscreen effective against both ultraviolet-A and ultraviolet-B (UVA and UVB)
- try it on your hand, it's easy to absorb?
- higher SPF it's better if you're exposed in sun in long time
- choose a light texture so you can use it daily or on vacation
.............
........................
..................................
..............................................
from my last trip beach, I use this :
Make Up Forever UV Prime SPF 50/PA++
Love this product, works like magic :)
- I don't suffer any sunburn
- love how it moist my face
- SPF 50/PA+++
- I can use for my daily sunscreen
- texture light, and easily absorb
- although color are white, when you applied it on your face,
blends flawlessly with your skin tone.
- light formula illuminates and prepares the skin for make up application
- it's stated enriched with anti oxidants
- has a very enjoyable scent
- protects against both UVA and UVB rays
It's a squeeze tube, sometimes when i'm in hurry
i squeeze the product too much *arghhhh
Now, it's in my everyday sunscreen prime
and i always bring this product every time i travel :)
you should consider this product if you're seeking a sunscreen
and yes, it's help prevent my face from sunburn.
in fact, when i got home, my friends asked me :
"did you really went to the beach? there's no sign sunburn at all."
it's easy to find their product, since Makeup Forever Indonesia
have a lot of boutique or store at any mall in Indonesia
Until next post,
Love,
M